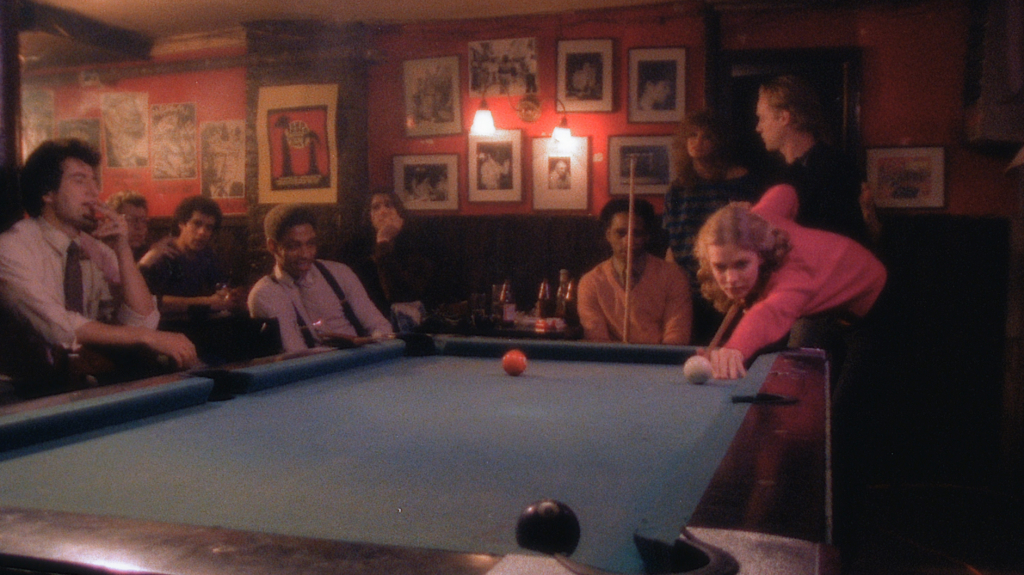 5:45PM, Saturday April 29

Introduced by Angelica Waite

Randwick Ritz


Director: Bette Gordon
Country: United States
Year: 1983
Runtime: 100 minutes
Rating: R18+
Language: English
TICKETS ⟶
VARIETY/THE STORY
AUSTRALIAN PREMIERE OF THE 2K RESTORATION
"
Bette Gordon's filmic creation is a truly rare movie that transcends time in its openly transgressive treatment of American culture. Genius.
" – Cole Smithey
Often described as a "
proto-feminist film noir
" and as a "
psycho-sexual thriller
", Gordon's 1983 film is set in the sex shops around Times Square. Christine takes a job as a ticket-seller in a porn cinema known as Variety and becomes fascinated by the sleazy attendees and the Wall Street walk-ins. Her challenge to be in the same space men occupy in the sexual world leads her to obsessively stalk an older businessman whom she believes controls the rackets in New York's fish markets. Joe Brennan called Christine "
a curious boundary-pushing heroine"
while claiming the film "
transformed the neo-noir genre
". A 2K restoration with a music score from the NYC jazz icon John Lurie.
"
A feminist Vertigo.
"
—
LA Weekly
"
I think a feminist Taxi Driver would be a more truthful moniker.
"
—
Lyzette
"
One of the best US independents of recent years.
"
—
Time Out, London
This screening will be introduced by Angelica Waite, film programmer and member of the Cinema Reborn organising committee.
---
FILM NOTES
By Anne Rutherford


Bette Gordon


Bette Gordon (born 1950) graduated with an MFA from University of Wisconsin-Madison film department and began making experimental films in the mid-west in the 1970s. Her early films focused on formal exploration with the layering of images and fractured movement, inspired by Michael Snow's influential avant-garde film, Wavelength. and the 'structuralist' period of American avant-garde filmmaking. In several of these films, Gordon collaborated with avant-garde filmmaker, James Benning.

After moving to New York City in 1979, Gordon found work with the Collective for Living Cinema, a key hub for avant-garde and experimental cinema in the city and became part of the downtown creative cultural ferment. In the 1980s, the legacy of Gordon's experimental work became woven into a new experimentation with film narrative and a strong focus on the visual dimensions of storytelling. She wanted to explore narrative as a way for her films to be more accessible, and to reach more people, but she says, 'I've been drawn to stories in which color, texture and mood are as central to the narrative as character and plot'.

In 1982, a representative of the German television channel, ZDF's Das kleine Fernsehspiel Workshop, was fishing around in New York to commission and subsidise low-budget films from new directors who were breaking unorthodox thematic ground with innovative approaches. After seeing Gordon's fragmented experimental film, Empty Suitcases (1980), he commissioned her to make a film dealing with voyeurism and pornography. This became her first feature, Variety(1983). According to film scholar Amy Taubin, Gordon believed that, 'for a woman to become a filmmaker or to simply enjoy movies, she had to take pleasure in her own voyeurism'. The focus on voyeuristic dimensions of sexuality inVariety put Gordon at loggerheads with much of the feminist film movement at the time. Variety premiered at the 1983 Toronto International Film Festival and later screened at the 1984 Cannes Film Festival.

AfterVariety, Gordon did not make another feature until her genre-bending road movie, Luminous Motion (1998), in which she explored her 'attraction to characters who live on the edge'. In the interim, she did some directing for television and in 1991 joined the faculty at Columbia University's School of the Arts. Her next feature, for which she is better known, was Handsome Harry (2009), described in The Village Voice as 'a set piece for the pathologies of white midlife manhood.' Gordon cast her friend, actor Steve Buscemi, in a role that plays out the tensions between traditional heterosexual male sexual desire and homosexuality. She followed up with a tense suspense feature –The Drowning (2016). Here, the way she works with sound and image carries traces of her earlier experimental preoccupations.

Gordon was initially drawn to cinema by the work of pioneering American director Dorothy Arzner, who in the 1930s was the only woman directing features in Hollywood. Other key influences are the films of R.W. Fassbinder, John Cassavetes, Wong Kar-Wai and Alfred Hitchcock and a passion for film noir. Gordon cites French New Wave director, Jean-Luc Godard, as a major influence and mentor: 'his radical approach to the use of sound and image helped shape me, as much as the questions he asked the viewer to consider, most importantly the relationship between truth and fiction.'

Gordon's narratives set out to challenge the viewer with 'morally ambiguous characters': she says, 'I'm not interested in characters that are easy or conventionally likable. In fact, that's something that drives me crazy about so much art now — the tyranny of likability. This idea that you must like every character or that you have to relate to them somehow. Who cares about that? I don't think you have to like the characters, but you should at least find them interesting.'

Curator Chale Nafus describes Gordon's work as 'criminally under-appreciated', but she is now recognised as a pioneer of American independent cinema. The increased interest in films directed by women and several major retrospectives of her films have brought new critical attention to her work, which is held in major permanent collections, such as the Whitney Museum of American Art and Museum of Modern Art.



---
The Film

Bette Gordon's favourite film genre is the noir thriller – she says she loves 'all the dark-lit streets and the unrestrained sexuality of the female characters' – and the genre gave her a template to stage the narrative of a young writer exploring her sexual fantasies as she stalks a man across the grungy old streets of New York, in a palette of dim lighting and garish neon signs.

Christine (Sarah McLeod), a young unemployed woman who in desperation has taken a job as a ticket-seller in a porn theatre in Times Square, becomes fascinated by one of the male patrons – somewhat sleazy Louie (Richard M. Davidson) – and follows him across New York. Turning the gender rules of the genre upside down, Gordon gives Christine the power of the gaze: she watches Louie as he conducts various shady transactions, tracks him across conventionally male spaces, learns about his possible mob connections and integrates him into her own sexual fantasies, eventually revealing to him everything she knows about him and menacingly demanding a meeting. The trope of the stalker has led to the film often being called a 'feminist Vertigo'.

Variety was released at the peak of feminist debates about the ways film has historically constructed the bodies of women as objects to be looked at by men. Critic Amy Taubin writes: 'Gordon realized that the objectification of women in film has less to do with the display of the body than with who has control of the narrative'. Gordon says, 'I decided to fashion my interest in voyeurism – obsession – and desire into a film, using pornography as a backdrop to explore those themes in a noir-like story about a woman who looks back. The subject of the film is desire (not pornography) … I thought that women's pleasure has not been represented very well in cinema, especially not up through the women's movement as it examined film and I wanted to re-insert that as a question.'

Gordon 1981 short film, Anybody's Woman in which her friends recounted their pornographic fantasies, became a prototype for Variety. In the feature, we see only small snippets of the blue movies showing in the theatre, nothing explicit, but we hear the sounds – the oohs and ahs – as Christine hangs out in the lobby during her break. Gordon describes herself as a 'voyeur with sound' and wanted to confront viewers with their own imagined images evoked by the soundtrack. The director describes the film as 'a time capsule': it is a curious testament to a world before the Internet: a world of furtive men in trench coats indulging their fantasies in all-male spaces where their desire to look would not be threatened by women watching them look.

Much of the critical commentary on Variety has focused on the film as a polemical text about 'reversing the male gaze' and the debates about pornography, but there is much more going on in the film than the narrative premise, from its lush, stylish cinematography to its innovative play with narrative form. Gordon's pleasure in the image infuses every meticulously composed frame. In the ticket booth, Christine is boxed in, framed like one of the publicity posters for the peep shows outside. Everywhere, window frames, pillars and car windows break the space up into compartments. Streetlights cast oblique shafts of light, illuminating blocks of dusky red and purple walls and carving up the space into angular, dark shadows. The nightscape of Times Square is a choreography of coloured light: monumental towers loom over the streets like sombre sculptural guardians, as colourful neons dance and flicker across the facades, cars course down the avenues trailing streams of red tail lights and metallic reflections glimmer off cars and buses. When the camera is not fixed to capture the flow and rhythm of these iconic spaces, it is often swinging around the space, following Christine or simulating her gaze in dynamic, fluid tracking shots.

As the camera draws us through the spaces of the city, the film becomes part-documentary, part fiction, making the city and its rhythms a key part of the experience of the film. When Christine trails Louie into the all-male space of the fish market, the camera follows huge crates of glistening, headless fish being hauled around the industrial warehouse, to the cacophony of forklifts engines and chatter, in extended sequences that have their own time-pace, the rhythm and life of the workaday world. From the tight, claustrophobic space of a car, we are suddenly in Yankee Stadium, brightly-lit, open green space as the bizarre rituals of Americana play out at a baseball game: the national anthem that goes on and on, the flag-bearing cheerleaders and the players beginning the game. This lengthy sequence seems redundant but one of the key narrative strategies of the film is to move us as viewers repeatedly out of the forward linear drive of narrative and into other rhythms, other modes.


The film has a beginning, middle and ambiguous end, but along the way we are constantly pulled out of this linear momentum of narrative into scenes that expand according to their own logic. Christine has a boyfriend, Mark (Will Patton), who likes to talk about his work as a journalist while she listens, but when she starts to tell him about her work and progressively dominates the space between them, he becomes more and more threatened. At one point she picks up Mark's last word – story – and starts to riff on the word, as writers do, until it becomes a sentence and grows into a pornographic story – perhaps something she has seen, perhaps a fantasy of her own. Each time they meet she breaks into these recitations, always staring straight ahead, as if she is seeing the images she so graphically describes projected on a screen before her eyes. The monologues draw us out of the forward drive of the narrative and into a moment of pure performance with its own dynamic. This push and pull between narrative and performative modes is reminiscent of a time when there was much more experimentation with narrative in independent cinema, more of a commitment to disrupt the viewer's seamless immersion in narrative, and lure us into watching more actively and thinking about film as film.

In one of Christine's recitations, she sits facing Mark, looking off into the distance, as he plays pinball. As her story becomes more lurid and he becomes more agitated, the story is punctuated by the incessant clicks, flicks and bells of the pinball machine. This unorthodox pairing of sound and image is echoed across the soundscapes of the film. John Lurie's cool, moody saxophone phrasing accompanies the voice of the spruiker at Variety theatre, calling out to passers-by, so the beckoning becomes like a musical incantation. In the most radical – and therefore most thrilling (for a cinephile) – moment in the film, Christine is listening to a relaxation tape, lying on a bed of bright red satin sheets in a purple top, framed against a grid-like meshed black wall. The monotonous drawl leads her – and us – around the body: relax the eyes, relax the forehead, relax the chin … on and on, drawing us into a soporific state of suspended animation, when suddenly projected images fill the wall behind Christine with a series of shots of Louie meeting and shaking hands with different men, over and over, splitting us between the stasis of Christine and the hypnotic intonation and the agitated repetition of what appears to be going through her mind, projected onto the screen. This moment of cinematic experimentation with disjunction between sound and image, a sure trace of the influence of Godard on Gordon's work, is motivated within the narrative, but pulls us as viewers into two conflicting modes that make us aware of the playfulness of the editing.


The film is a product of the creative culture of downtown New York in the early 80s when, Gordon says, people could engage with each other to produce art rather than for commercial gain and were motivated by 'joy, energy and fearlessness'. The director drew into the project a stellar crew of people who would go on to become key figures in American culture: radical experimental writer Kathy Acker who wrote the script; photographer Nan Goldin who plays herself as a barmaid; John Lurie, jazz musician from The Lounge Lizards, who starred in Down By Law; cinematographer Tom DiCillo, who later worked with Jim Jarmusch; production assistant Christine Vachon, who went on to produce Todd Haynes' Poisonand spearhead the queer cinema movement; actor Luiz Guzmán, familiar from Carlito's Way; actor Cookie Mueller (John Waters' Divine), and others.


The unorthodox pairings of sound and image, the meandering narrative structure, the hybrid modes of narrative and performance and the gorgeous cinematography make the film worth watching as a genre-bending cinematic exploration of the possibilities of how to play with sound, image, narrative and performance. Watch the film, let the narrative play out, but stay closely attuned to how that narrative is staged and the film will offer invigorating pleasures for the film-lover.


The Restoration
New 2K restoration from the original camera negative overseen by director Bette Gordon.

Credits
Director: Bette GORDON | USA | 1983 | 100 mins | 2K Flat DCP (orig. 35mm, 1.85:1) | Colour | Mono Sd. | English | (R)18+.

Production Companies: Channel Four, Variety Motion Pictures, ZDF | Producer: Renée SHAFRANSKY | Script: Bette GORDON, Kathy ACKER, Jerry DELAMATER & Peter KOPER, Nancy REILLY | Photography: Tom DICILLO, John FOSTER | Editor: Ila VON HASPERG | Sound: Scott BREINDEL, Michael CATON, Helen KAPLIN | Music: John LURIE | Costumes: Elyse GOLDBERG.

Cast: Sandy MCLEOD ('Christine'), Will PATON ('Mark'), Ricgard M. DAVIDSON ('Louie') Luis GUZMÁN ('Jose'), Lee TUCKER ('Projectionist'), Nan GOLDIN ('Nan'), Spalding GRAY ('Obscene Caller').