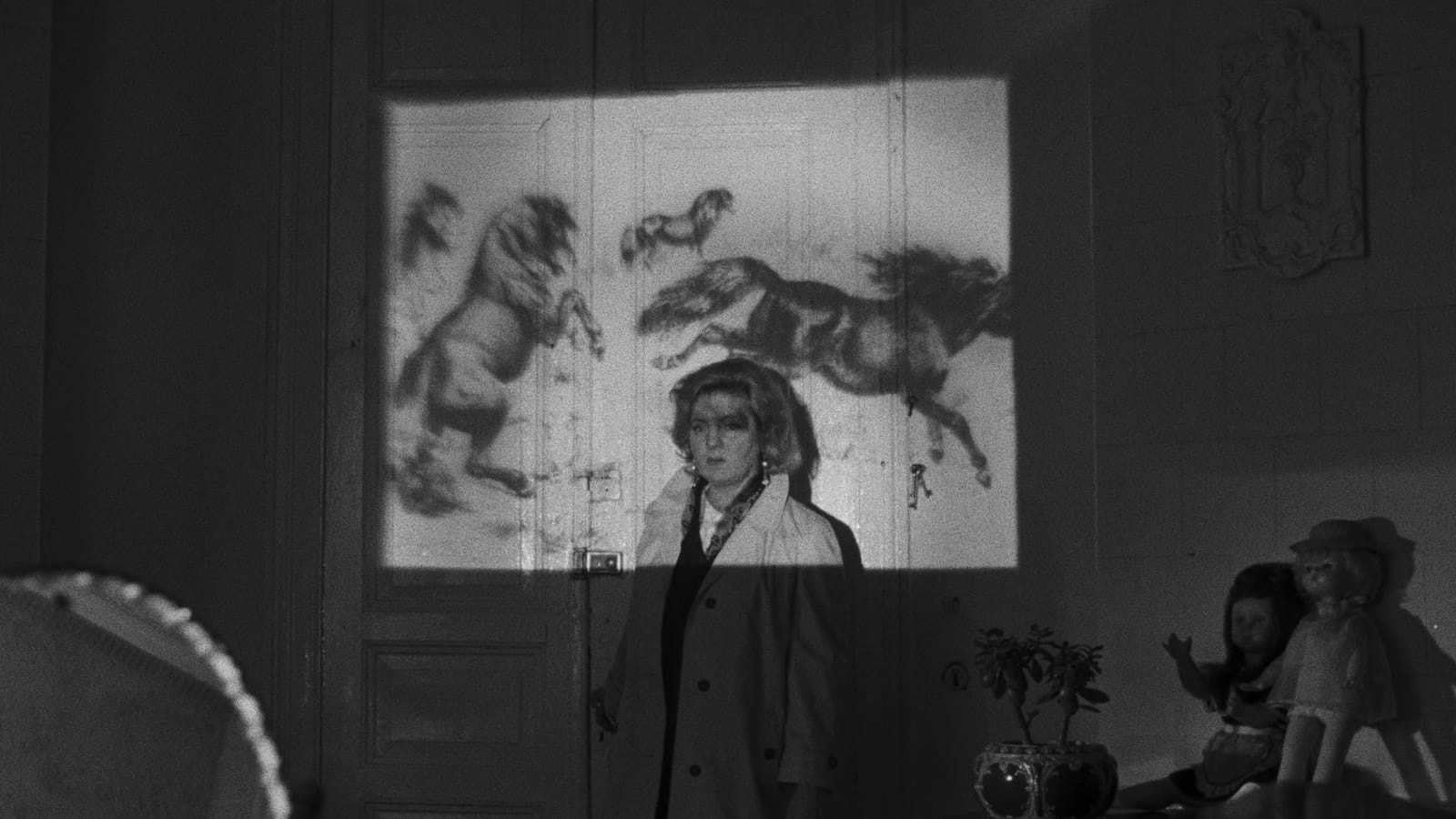 10:45 AM, Saturday April 29

Australian Premiere: Introduced by Margot Nash


6:15 PM, Tuesday May 02

Randwick Ritz


Director: Kira Muratova
Country: Russia
Year: 1971
Runtime: 97 minutes
Rating: U15+
Language: Russian, English subtitles
TICKETS ⟶
THE LONG FAREWELL/ DOLGIE PROVODY
AUSTRALIAN PREMIERE OF THE 4K RESTORATION
"
Hard to imagine a director working in the former Soviet Union who's more transgressive.
" – Jonathan Rosenbaum
Banned for nearly twenty years until Perestroika in 1987, Kira Muratova's riveting family drama is now hailed as a lost masterpiece. The Soviets first saw her story of a divorced mother in Odessa fighting to hold on to a son who desires to live with his father in Novosibirsk, as "
incompatible with the aesthetic desires of Socialist Realism
". Muratova, one of the most important, if unknown, female directors in cinema history, completed 23 feature films in a career spanning 50 years. This is a very rare opportunity to see one of her greatest works, recently restored in 4K.
"
Like watching the fourth Karamazov brother's life once Dostoevsky was reincarnated as a filmmaker.
"
—
Loz Loory
"
…a kind of Jeanne Dielman of Odessa; since the departure of her husband, her hard-working life revolves around caring for her son Sasha – caring for him, dominating him, and keeping him as a little child.
"
—
Berkeley Art Museum and Pacific Film Archive
The 10:45am screening on Saturday 29 April will be introduced by Margot Nash, filmmaker and a Visiting Fellow in Communications at the University of Technology Sydney.
Watch a remarkable tribute to Kira Muratova produced by Ukrainian television to mark her death in 2019,
here
.
---
FILM NOTES


Kira Muratova
By Adrian Martin
The Ukrainian Kira Muratova (1934-2018) was entirely absent from the shake-out of
Sight and Sound
's 2022
'Best Films of All Time'
canon poll. That is a crime. But is it really so surprising? Muratova, intransigent and uncompromising to the end of her days, never fit into anyone's categorisation of her, and never tried to flatter the sedimented perceptions of even her most devoted fans and champions. Intellectualising her cinema on the festival circuit left her cold; she just wanted to be left alone to create. And create she did: from
Brief Encounters
in 1967 to
Eternal Return
in 2012, her work was one, giant blast of energy, by turns lyrical and rude, absorbing and alienating. There are few figures in film history to whom she can be validly compared, although Dina Iordanova makes a good case for pairing her with the Czech Věra Chytilová (1929-2014), another frequently misunderstood maverick. Chytilová, however, cracked the
Sight and Sound
list with her anarcho-feminist classic,
Daisies
(1966). How many more decades before we see Muratova's ascension?
Muratova's career began earlier than
Brief Encounters
, in two films of the early '60s co-directed with her first husband, Alexander Muratov. She disliked them and wished they could be struck from her filmography; she resented researchers who foraged around in them for signs of her later style.
The Long Farewell
was put on ice by the Soviet film authorities in 1971, and did not emerge from the vault until 1987 – when it received immediate acclaim. Between those two dates, Muratova made at least two key works –
Getting to Know the Big Wide World
(1978) and
Among Grey Stones
(1983) – but her path was clouded by a kind of semi-exile, moving from place to place (especially Odessa) to work. After '87, new co-production opportunities emerged for Muratova (already in her mid 50s), and she plunged into them with indefatigable zest – in close collaboration with hubby no. 2, painter-designer Evgeny Golubenko.
Muratova often proclaimed her sovereign distance from historical and political subject matter. Only once did she willingly testify to her times: in the corrosive masterpiece
The Asthenic Syndrome
(1989), a bleak view of collective, interpersonal confusion and chaos in the immediate post-Perestroika period – and a film like no other. For an in-depth appreciation of Muratova's life and work, I heartily recommend the dossier of written & video essays, "Re-Discovering Kira Muratova", assembled by Dina Iordanova for the online publication
Frames
, no. 18 (Summer 2021),
online publication Frames, no. 18 (Summer 2021),
The Film
At the centre of The Long Farewell is a room. As we take in different aspects of it across the film, we may well wonder just what kind of room it is: spare bedroom, den, living room? What matters most to Muratova is that it is a space redolent with near-magical, imaginary transformations: slide images are ceaselessly projected onto doorways (and thus on anybody who happens to enter); dolls and other intriguing objects line the shelves. This room is the seed or germ of everything that Muratova's cinema will become in later years: baroque, deliberately excessive, hyper-textured, gleefully artificial, anti-realistic. In 1971, however, Muratova – still somewhat constrained by the strictures of 'socialist realism' in the USSR – was still situating her plots in recognisably everyday milieux of work and leisure.


Like its superb predecessor Brief Encounters, The Long Farewell can show and tell us much – in passing, as it were – about the lived experiences of people under a Socialist system. Certain inequalities still linger (Muratova had to tone down what was perceived by the authorities as a dangerous 'class difference' between various characters) and women, especially, get the raw end of professional dealings. The film drily bears out what was once explained in a seminar by the great Russian-Australian scholar Julia Vassilieva: that Russian society invites all women to take up their role as citizens on an equal footing with men – but, once admitted as citizens, they will no longer be regarded, in any meaningfully political way, as women.


This, in a nutshell, is the dilemma of Evgenia (Zinaida Sharko) in The Long Farewell, caught between motherhood and independence, public and private life. Some commentators (including the redoubtable Mikhail Iampolski) see a triumphant progression in the film from Evgenia wearing masks and performing roles to, in the end, becoming herself (as signalled by the act of tearing off her wig) – but Muratova never offers resolutions that are this neat and tidy.


Irresolution, drifting, agonised suspension: such is the predominant mood-board of Muratovan cinema. It is often said that Muratova paid more attention to the murky space of interpersonal emotions – love, desire, friendship, family – than to timely social issues, and that this was the principal cause of the troubles she faced as a filmmaker within the Soviet system (ideological propaganda was decidedly not her thing). In this film which was considered "too bourgeois" by the cultural commissars – a complaint the director often had to endure – it's easy to see why the drama (such as it is) becomes immersed in the micro-movements, transfers and short-circuits, the smallest flickers of emotion: for this play of affects is veritably bottomless, infinite. Valeria Mutc has explained the colloquial sense of the title, which alludes to a famous Russian saying: "long farewells cause unnecessary tears". And in the back-and-forth between Evgenia and her son, Sasha (Oleg Vladimirsky) – an immortal embodiment of teenage surliness – we may never reach the end of parting, returning and crying.


As often in Muratova – for whom the notion of a 'central character' seems a pretext at best, and a nuisance at worst – Sasha's dark presence threatens to hive off into a film of its own. The pains he suffers in proximity to his Mum are, more or less, the same pains he suffers in relation to all girls – and, indeed, all boys – of his own age: awkward hesitations, unreadable cues, unanswered questions, interrupted flow.


The Long Farewell is a jewel that allows us to gauge the evolution of Muratova's approach and style. Although Muratova, at the time, may not have been aware of this affinity, the film makes a delightful double-bill with another from 1971: John Cassavetes' Minnie and Moskowitz. Like Cassavetes – another master of painstaking, fine-grained montage – Muratova experimented with including traces of multiple takes, and constructed halting dialogues through ceaseless verbal repetition ("like in life", she always said). Such repetition-and-variation, on both macro and micro scales, would become the sometimes maddening and provocative hallmark of her work in the 1990s and beyond, pushing it into an avant-garde realm all her own.


However, inThe Long Farewell – a film of touches, glances, hesitations, outbursts and withdrawals – there is a poignant simplicity and directness that can draw any viewer in.


The Restoration


Restored in 4K by StudioCanal in collaboration with The Criterion Collection at
L'Image Retrouvée laboratory, from the 35mm original negative preserved by Gosfil'mofond.


---
Credits
Долгие проводы / Dolgie provody | Director: Kira MURATOVA | USSR | 1971-1987 | 97 mins. | 2K Flat DCP (orig. 35mm, 1.37:1) | B&W | Mono Sd. | Russian with Eng. Subtitles | U/C15+.

Production Company: Odesskaya Kinostuiya | Producer: G. KOGAN | Script: Natalya RYAZANTSEVA | Photography: Gennady KARYUK | Editor: V. OLEYNIK | Production Design: E. RODRIGEZ | Sound: I. SKINDER | Music: O. KARAVAYCHUK | Costumes: N. AKIMOVA.

Cast: Zinaida SHARKO ('Yevgeniya Vasilyevna Ustinova'), Oleg VLADIMIRSKY ('Aleksander Sasha Ustinov'), Yuriy KARUROV ('Nikolay Sergyevich'), Svetlana KABANOVA ('Tatyana Kartseva').