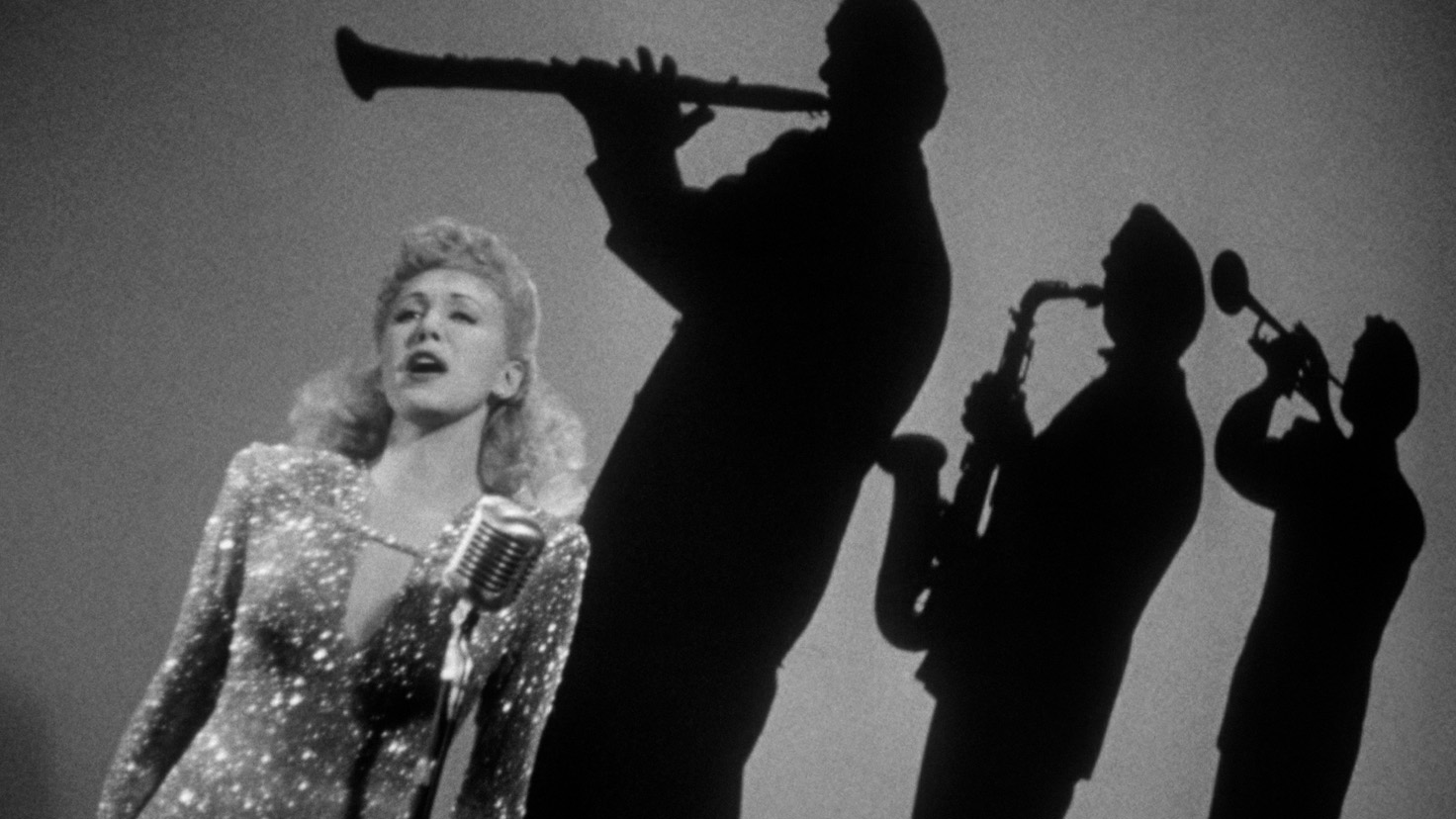 8:15 PM, Thursday April 27

Australian Premiere: Introduced by Richard Brennan


8:00PM, Monday May 01

Randwick Ritz


Director: Edgar G. Ulmer
Country: United States
Year: 1987
Runtime: 68 minutes
Rating: PG
Language: English
TICKETS ⟶
AUSTRALIAN PREMIERE OF THE 4K RESTORATION
"
Ann Savage all but blisters the screen with her venomous snarling performance as the vicious Vera.
" – Mildred Martin, Philadelphia Inquirer
One of film noir's most admired crime dramas,
Detour
was made in just six days on a budget of $US30,000. A pianist leaves New York, planning to hitchhike to Los Angeles to find his girlfriend, but ends up driving a stolen car and accompanied by a Spider Woman he has initially under-estimated: "
she looked as if she's just been thrown off the crummiest freight-train in the world
". Later he comes to believe "
no matter what you do, no matter where you go, fate sticks out its foot to trip you up
". Like all film noir's great femme fatales, Vera is destined to completely disrupt the trajectory of the man's life and further entrench his emasculation. Few femme fatales in noir have done it with the gusto and power of this amazing performance from Ann Savage as Vera. First Australian screening of a magnificent 4K restoration sponsored by the Academy Film Archive.
"Probably the greatest "B" film ever made." —
Charles Flynn and Todd McCarthy, Kings of the Bs
"Savage is one of the most memorable off-kilter vixens in movie history." —
James Pallot
The 8:15pm screening on Thursday 27 April will be introduced by Richard Brennan, producer of
Long Weekend
,
Stir
,
Starstruck
,
Cosi
and many more.
Watch a superb Video Essay "Detour: The Pinnacle of Film Noir"
here.
Watch an introduction by film noir's guru, the great Eddie Muller
here.
---
FILM NOTES

By Eddie Cockrell

Edgar G Ulmer




In the later years prior to his death in 1972, prolific Austrian-American B-movie director Edgar G. Ulmer described himself to at least two interviewers as "the Frank Capra of PRC," and he wasn't wrong: amongst the many visually distinctive low-budget melodramas he made for Poverty Row studio Producers Releasing Corporation, his 1945 masterwork Detouris a concentrated 68-minute blast of purely nasty film noir that displays his affinity for the perhaps cynical yet essentially decent common man who finds himself at the mercy of a cruel fate and a meaner woman.

Ulmer was born in Moravia, now in the Czech Republic, in 1904. He studied architecture and philosophy in Vienna, and counted amongst his earliest fledgling film industry contacts F.W. Murnau, Billy Wilder, Robert Siodmak and Fred Zinnemann (all of whom, of course, as did Ulmer, eventually relocated—or maybe the right word is fled?--to Hollywood).

Ulmer made his first Hollywood picture in 1933, and the following year segued to Universal and the significantly successful The Black Cat, with Boris Karloff and Bela Lugosi. A messy scandal involving studio head Carl Laemmle's nephew's marriage derailed that career trajectory (though it did bless him with a life partner, Shirley, who was script supervisor on nearly all of his best work), so he pivoted to making foreign language films—then called "ethnic pictures"—in Ukrainian and Yiddish before becoming a kind of house director at PRC in the early 1940s.

He thrived, if you could call it that, though he later confessed to adoring fan Peter Bogdanovich in the 1997 book "Who the Devil Made It?" that "I am really looking for absolution for all the things I had to do for money's sake."

The Edgar G. Ulmer papers are held at the Margaret Herrick Library of the Academy Film Archives in Los Angeles. Symposia and academic conferences have been held on his approximately 85 titles, and his name and distinctively intense style will live on in such disparate, eccentric and timeless films as Green Fields (1937), The Strange Woman (1946, with Hedy Lamarr), Carnegie Hall (1947), Ruthless (1948) and The Man from Planet X (1951).

Yet when all is said and done, it inevitably and finally comes down to this: absolution, thy name is Detour.

---
The Film
At New York City's bustling nightclub Break o'Dawn, talented pianist Al Roberts (Tom Neal, who looks for all the world like Leonardo Di Caprio's grandfather and wears the hell out of his battered fedora) is smitten with easy-on-the-eyes and clearly natural vocalist Sue (former vaudevillian and future low-budget westerns staple Claudia Drake, nee Olga Gloria Fishbine) and they're planning a bright future. But when Sue makes the out-of-left-field decision to strike out to Los Angeles to make her fame and fortune—even though she promises her lover she'll return to fetch him—Al is understandably devastated.

Thus begins an inevitable odyssey that finds the penniless yet determined Al hitchhiking across the country to reclaim his ambitious partner and make her his wife. It's a vivid picture of a confident yet restless America, where independent women forged their own paths and obsessed men tried to keep up with them whilst maintaining their dignity. Yet, as Al eventually concludes, "Fate, or some mysterious force, can put the finger on you or me for no good reason at all."

The film is framed by Al's recollection of the story's tragic events as he sits in a dingy diner in Reno, Nevada and relates his ordeal. Ulmer and cinematographer Benjamin H. Kline, himself a director of westerns and cameraman for a good fraction of the crudely brilliant Three Stooges shorts for Columbia Pictures, darken the joint and place a key light on Neal's eyes as his reveries begin, amping up the haunting doom of his tale.

In Arizona, Al is picked up by pill-popping horseracing bookie Charles Haskell, Jr. (Boston-born Edmund MacDonald, a Broadway and radio veteran who died tragically young at 43 of a brain hemorrhage). The supremely confident hustler is driving a dazzlingly white 1941 Lincoln Continental convertible, a customized battleship of a car that was actually Ulmer's own personal ride pressed into service for the picture.

In a distinct precursor to Antonioni's The Passenger, tragedy ensues and Al is forced by impulsive, desperate logic to assume Haskell's identity.

It's at this point that the picture pivots to a much darker and more desperate path. Whilst stopped at a lonely petrol station in the California desert, the still somehow good-hearted Al, now posing as Haskell and behind the wheel of an obnoxiously beautiful machine, offers a ride to a seemingly bereft woman standing by the side of the road with a single bag.

Thus enters one of the most magnificently manipulative femmes fatale in all of cinema.

No spoilers here, but as it happens this woman knows exactly what Al is up to and their later scenes together in the picture leading up to the bizarre yet inevitable denouement are charged with an electric ferocity.

The beautiful yet utterly venal Vera is played with a possessed, bug-eyed intensity by Ann Savage (nee Berniece Maxine Lyon), who had a dignified enough career in a handful of B-movies in the 1940s and 1950s but is far from a household name. True Film Catholics remember her revival in the mid-aughts on the strength of Detour's renewed popularity (as a result of it falling into the public domain) when Canadian visionary Guy Maddin hired her to play his mother in the 2007 docu-fantasia My Winnipeg. As a career highlight, however, Savage's performance here makes Jane Greer's Kathie Moffat in Tourneur's magnificent 1947 noir Out of the Past (aka Build My Gallows High), look like a nun.

It prompts one to wonder if Tourneur and/or Greer ever saw Savage in the part and may have been influenced by her focused lunacy…

A movie with the raw emotion of Detourdoesn't write itself; that honour goes to novelist Martin Goldsmith, who adapted one of his three pulp novels and in doing so perfectly captured the resigned cynicism and sexual tension that is the essence of the genre.

There's more to say about Detour, much more. Yet for now, just revisit or discover a movie that proudly and instinctually represents the urgency and inventiveness of the low-budget, can-do ethic, smack dab in the middle of the golden era of Hollywood filmmaking.


The Restoration
Restored in 2018 by the Academy Film Archive and The Film Foundation in collaboration with the Cinémathèque Royale de Belgique, MoMA The Museum of Modern Art, Cinémathèque Française with the support of the George Lucas Family Foundation.

Credits
Director: Edgar G. Ulmer | USA | 1945 | 66 mins. | 2K Flat DCP (orig. 35mm, 1.37:1) | B&W | Mono Sd. | English | (G).

Production Company: Producers Releasing Corporation (PRC) | Producer: Leon FROMKESS | Script: Martin GOLDSMITH [Martin MOONEY, uncredited], based on Goldsmith's novel | Photography: Benjamin H. KILNE | Editor: George MCGUIRE | Art Direction: Edward C. JEWELL | Sound: Max HUTCHINSON | Music: Leo ERDODY | Costumes: Mona BARRY.

Cast: Tom NEAL ('Al Roberts'), Ann SAVAGE ('Vera'), Claudia DRAKE ('Su Harvey'), Edmund MACDONALD ('Charles Harkell Jr.'), Tim RYAN ('Diner Proprietor').